Take Advantage of Gained Skills for Self-Advancement – Lawmaker Admonishes Training Beneficiaries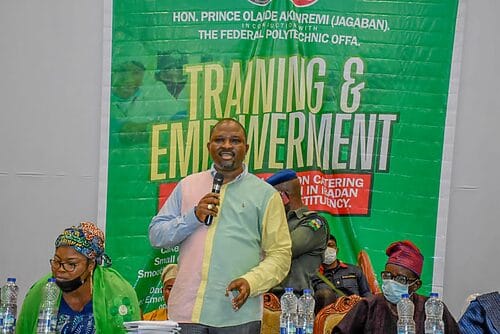 List to this page write up
The lawmaker representing Ward 10 in the Bonny Legislative Assembly, Kingsley Jumbo has admonished beneficiaries of a skills acquisition programme he sponsored to take advantage of the knowledge and skills acquired for their self-advancement.
Jumbo gave this admonition on Friday, March 31, 2023 during the graduation ceremony for the beneficiaries of a six months training programme in Computer Literacy, Fashion, Designing and Hair Dressing sponsored by him, who were issued certificates.
Kingsley Jumbo, flanked by other officials, giving his remarks during the event.
He asserted that given the training they have received, they should be able to fend for themselves and be self-reliant, expressing his happiness over their successful completion of the training, commending them for their good conduct during the process.
"To the glory of God, I'm highly elated to see you all completed your respective training that started last year, July 11th and I'm impressed with your behaviours as reported by your trainers."
"I don't have money to distribute but I believe that if we all are properly equipped academically, skillfully, technologically, and in other endeavours, then we can confidently catch fishes for life rather than beggarly being given fish daily."
Jumbo is also the Chairman of the Committee on Information, as well as, the Committee on Health, Environmental Sanitation Services in the Bonny Legislative Assembly.  
Also speaking during the event, the Chairman of the Peoples Democratic Party (PDP) in Ward 10, Bonny LGA, Sokipiri Jumbo, as well as, the Director General of Uncommon Grace Campaign Team, applauded the Councillor for embarking on and completing the training programme, encouraging the trainees to make the most out of the knowledge and opportunity they have been privileged to have.
Sokipiri Jumbo, flanked b Kingsley Jumbo and another guest, addressing the beneficiaries.
One of the trainees in Fashion and Designing, Rebecca Jumbo expressed her appreciation to the Councillor, and their tutor, Stella Jumbo, for the "open cheque given to them to become better," revealing that the attire worn as a uniform by the trainees during the occasion was a sample of their work.
Two other beneficiaries, Ibinabo Briggs and Treasure Jumbo recounted the difficulty encountered at the earliest stage, saying that they are delighted to have surmounted them and now bear certificates of excellence in Microsoft Office Suite comprising Word, Excel, PowerPoint, CorelDraw, amongst others.
The beneficiaries were drawn from nominations cutting across the various units that make up Ward 10 courtesy of leaders and stakeholders across party lines, community groups, religious and traditional heads.
The venues for the respective trainings include Steliz Fashion Centre, Louel Enterprise and Debby's Make-Over and Braids.